Best Aquarium Racks for Breeders and Hobbyists
Posted by on 03/04/2023
We use affiliate links and may receive a small commission on purchases.
---
Whether you're a breeder selling on Light Fish or an avid fishkeeper, an aquarium rack system provides a way to organize your aquariums and make them easily accessible for tank maintenance
Aquarium rack systems need to be capable of withstanding a large amount of weight, and it's important that you purchase a well-built system that can last for as long as you need. In this post, we'll recommend 10 aquarium rack systems that you can use to build the ultimate fish room.
---
---
---
Aquarium Racks, Explained
Freshwater hobbyists, saltwater hobbyists, and retailers can all benefit from a dedicated aquarium rack. In the freshwater hobby, a rack may hold up different display tanks, breeder tanks, or tanks to grow aquatic plants. Saltwater hobbyists may use the additional space a rack provides to host a dedicated frag tank or quarantine tank. Retail stores typically use commercial racks to house and advertise their livestock.
Racks need to be durable. Aquariums are extremely heavy, and a good rack should be rated for a weight exceeding that of your filled tanks. An aquarium rack should also allow your tanks to be easily serviceable during water changes. Having a rack that's splash-resistant and capable of supporting a large amount of weight should be priority number one when deciding on an aquarium rack.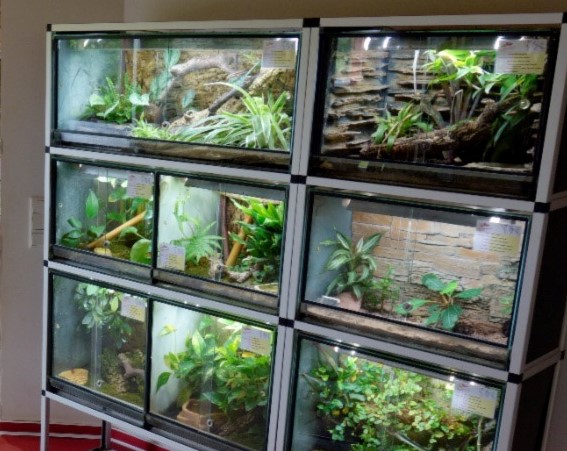 Frank Lehmann/Wikimedia Commons
A rack system being used for terrariums
Best Aquarium Racks
There are many different types of rack systems available, and everyone will have different needs. Saltwater hobbyists may need a rack that's weighted for a bit more weight than freshwater (saltwater tanks tend to be quite a few pounds heavier), while some hobbyists may have cube-shaped aquariums that need more vertical space.
Whether you're looking to build your own, or are just shopping around to get some ideas on price and sizing, this list should help make your decision a bit easier.
Commercial Retail Rack System by Mode Aquariums 
While this rack is probably a bit too expensive for most hobbyists, if you're looking for a professional-looking rack, the Commercial Retail Rack System by California-based Mode Aquariums is a great choice.
Rack Systems such as this one are often seen in large pet stores and local fish stores, but it's possible to own one of these at home. Plus, the sleek design of this rack system is certainly more aesthetically pleasing than the more common industrial-looking rack systems.
Chrome 4-Tier Metal Wire Shelving Unit by HDX
Next on our list is from Home Depot's house label, HDX. Their Chrome 4-Tier Metal Wire Shelving unit comes in Black, Chrome, and Ivory finishes, and its shelves can hold up to 350 lbs each.
With that durability, it should be able to handle both 20-gallon freshwater and saltwater tanks easily, but if you're looking to hold larger tanks, you'll want to look for something that's rated for more weight.
4-Tier Welded Steel Garage Storage Shelving Unit by Gladiator
Gladiator, a subsidiary of the Michigan-based Whirlpool Corporation, is known for their shelving, cabinets, and workbenches. They specialize in durable products that are built to withstand heavy loads, making their 4-Tier Welded Steel Garage Storage Shelving Unit a great choice for those looking for a heavy-duty rack system.
Each shelf is built to support up to 2000 lbs, and the shelves are adjustable, which is great if you plan on using the rack for cube-shaped aquariums. At 72 inches in length, each shelf should be able to support a filled 100-gallon tank.
Metal Heavy Duty 5-Tier Utility Shelving Unit by Project Source
The Lowe's corporation's proprietary brand, Project Source, offers a 1000lb shelf capacity, heavy-duty, 5-tier shelving unit that can be adjusted both horizontally and vertically to fit tanks of different sizes.
Hobbyists will appreciate its wire-mesh shelves, which will allow hobbyists to examine the bottom of any tanks for potential cracks or leaks.
While the shelving unit is only 48 inches in width, it can be broken down to a 3-shelf configuration, which allows for a tank that's up to 86 inches in width. 
4-Shelf 6' Industrial Storage Rack by DeWalt
If you've worked with power tools before, you've probably already heard of DeWalt. Their 4-Shelf 6' Industrial Storage Rack can handle a whopping 2500 lbs per shelf.
The rack comprises 3 industrial-strength metal wire grids, and one black laminate wood composite deck, which combined can hold up to 10,000 lbs.
The rack is about 72 inches in height, 24 inches in depth, and 77 inches in width. It's a powerful rack, but some hobbyists will undoubtedly be turned off by this product's bright-yellow coloration.
NSF Chrome Shelf by Steelton
ArcelorMittal Steelton, a Pennsylvania-based steel manufacturer, has a large variety of steel-based products that cater to the restaurant business.
Luckily for aquarists, their Wire Shelving Kits can be repurposed as an aquarium rack system.
Their 18" x 60" NSF Black Epoxy 5-Shelf Kit with 72" Posts features an epoxy coat, making it resistant to corrosion, a nice perk when things get messy during water changes.
Steelton caters mostly to commercial businesses that buy in bulk, so if you're looking to pick up multiple racks, you can score a pretty good deal over on WebstaurantStore.com
2 x 4 ft 3 Shelf Steel Wire Decks Storage Rack by FLEXIMOUNTS
Fleximounts specializes in garage equipment, such as bike hooks, garage hooks, work benches, overhead storage racks, and most importantly for aquarium hobbyists - garage shelving.
Their products can be found for sale on Amazon, Walmart, and Home Depot, but their adjustable 3 Shelf Steel Wire Rack is highly rated and will work well for hobbyists looking for a durable rack stand.
Each Wire Rack is capable of supporting up to 1550 lbs each and is about 50 inches in width. Those of us who may be interested in this rack should be aware that a vertical support beam does cover the sides of the rack, making tank maintenance from the sides a bit more difficult.
4 Layer Wire Shelving Rack by Ktaxon
For those of us with nano aquariums, Dayton NJ based Ktaxon specializes in thousands of different products, including home furniture, toys, pet supplies, and even musical instruments.
While it's safe to assume durable wire racks aren't their bread and butter, their Iron-based storage shelf is a budget-friendly option, but we wouldn't add anything larger than a 2.5-gallon nano tank per rack.
72" Heavy Duty Storage Shelf Steel Metal Garage Rack by Costway
Next on our list is Costway's 72-inch, heavy-duty storage metal garage rack . This 5-level adjustable rack can support up to 1900 lbs, and each rack can hold up to 385 lbs.
Costway is based out of China, and you'll need to assemble this product yourself, which can be a bit difficult. As with a lot of other Chinese-based products, it's affordable, but we'll leave it up to you to decide whether or not this rack is right for you.
5 Tiers Boltless Storage Garage Rack by Raybee
Hong Kong-based Raybee rebranded as "Reibii" specializes in Garage Shelves, Kitchen Racks, and Dressers at an affordable price point.
Their 32" rack can handle up to 2000 lbs of load, with each shelf rated to support up to 400 lbs each. Made out of steel, this rack should have no problem supporting 20-gallon tanks that are 30 inches in length.
Conclusion
As you can see, there are plenty of racks to choose from which sell at a wide range of different price points. While there are many other racks out there, hopefully, this list provided you with a few helpful options.
When it comes to racks, you want something that makes servicing your tanks a breeze without compromising durability and adjustability. Before purchasing, always double-check the measurements of your tanks and filled weights before settling on a rack. Now that we've covered some options, do you plan on choosing one of these racks? Drop a comment below, and be sure to check out our marketplace and community forum where you can buy and sell with other hobbyists.