10 Places for Buying Freshwater Aquarium Shrimp Online
Posted by on 05/24/2023
---
Whether you're after the uncommon sulawesi shrimp, or just looking to pick up some amanos to curtail a black beard algae outbreak, you'll want to purchase from a trusted online vendor experienced in shipping shrimp.
In this post, we'll recommend 10 of our favorite online businesses that specialize in shipping aquarium shrimp, so that you can properly stock your next tank.
---
---
10 Of Our Favorite Places
Hobbyists should be aware that the following places ship within the United States. If you're interested in seeing a list for a different country, let us know in the comments below.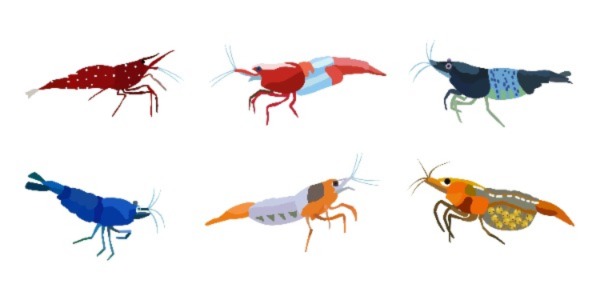 Hello_Julia/Shutterstock.com
Sulawesi, amano shrimp, and red cherry shrimp are a favorite with planted tank hobbyists
Red Fish Blue Fish
Based out of Washington, Red Fish Blue Fish specializes in all things freshwater, including shrimp. Expect to find high-grade orange pumpkin shrimp, yellow shrimp, and the versatile amano shrimp up for sale.
Red Fish Blue Fish: https://redfishbluefish.shop/
Planet Inverts
Recently taken over by Lundgren Aquatic, Ohio-based Planet Inverts offers a small selection of Neocaridina color morphs, including the Red Rili, Red Cherry, Blue Dream, and Golden Bee.
Sold in groups of 10, hobbyists can message the owners directly with any questions regarding care and acclimation.
Planet Inverts (Lundgren Aquatic): https://lundgrenaquaticbiology.com/
H2O Plants
Although their name is in reference to the variety of plants they sell, H2O Plants also maintains a moderately sized collection of freshwater aquarium shrimp.
Hobbyists can pick up a few Neocaridina color variants, including the Red Rili, Orange Rili, and the hard-to-find Green Jade shrimp. Orders ship from their Ohio facility, and any insulation or cold packs needed for shipping are included free of charge.
H2O Plants: https://www.h2oplants.com/
I Wet My Plants
I Wet My Plants has a massive variety of aquatic plants, and it is no surprise that planted tank guru Brandon also has a few Neocaridina species up for sale. 
Hobbyists can pick up high-grade red cherries, blue dreams, and algae-eating amanos to round out their aquascapes. 
I Wet My Plants: https://iwetmyplantsaquatics.com
Glass Grown Aquatics
Kansas-based Glass Grown Aquatics may be best known for their popular plant bundles, but hobbyists can pick up more than just plants over on their e-commerce store.
Not only can you find freshwater fish, but you can also pick up some of the more hard-to-find shrimp color morphs. Black Onyx, Chocolate Rose, and Snowball White dwarf shrimp are just a few of the Neocaridina color offerings you can find on store owner Cass's site.
Glass Grown Aquatics: https://glassgrown.com/
Reefchasers
Surprised to see Reefchasers on the list? So were we! While Reefchasers primarily sells corals and saltwater fish, they also offer a small selection of freshwater aquarium shrimp. 
So for those of us that aren't looking for a blastomussa, head over to their freshwater shrimp section to score a deal on some Green Jades, or their budget-friendly B-Grade shrimp packs.
Oh, and they also offer free overnight shipping on orders over $150, not bad!
Reefchasers: https://reefchasers.com/
Daku Aquatics
We're big fans of Daku Aquatics (they've even landed on our list of 10 Places to Buy Freshwater Aquarium Fish Online.) We've seen Daku's listings frequently over on Reddit, but for those looking to cut out the middleman, freshwater fish, plants, and shrimp, can all be purchased on Daku's e-commerce site.
Hobbyists looking to pick up Yellow Goldenbacks and Wild Types should pay a visit to Daku's website.
Daku Aquatics: https://www.dakuaquatics.com/
AK Aquashop
Shipping out of Texas, AK Aquashop has over 20 years of aquarium-keeping under their belts, and hobbyists can expect to find rare Endler strains and high-grade fire red cherry shrimp. 
Although their inventory is on the smaller side, they make up for their size by offering hobbyists free shipping on any order over $100.
AK Aquashop: https://akaquashop.com/
Jungle Aquashrimp
Shrimp experts, Jungle Aquashrimp offers a wide variety of Caridina and Neocaridina color morphs. Based out of North Carolina, Jungle Aquashrimp sells a massive amount of shrimp, and hobbyists looking to pick up crystal reds, crystal blacks, blue jellies, and golden backs, should give their online store a visit.
Best of all, they offer free shipping on orders over $100, just make sure to double-check the recommended water parameters before spending the money on some of these more sensitive shrimp species.
Jungle Aquashrimp: https://www.jungleaquashrimp.com/
House of Fins
Connecticut-based House of Fins sells plenty of saltwater fish, but they also offer a small amount of freshwater inverts online. Hobbyists can pick up Japonica Amanos and Mexican Mini Lobsters, but you'll need to meet a $500 order minimum to qualify for this store's free shipping.
House of Fins: https://houseoffins.com/
More Places to Buy
As you can see, there's no shortage of online stores that specialize in selling freshwater aquarium shrimp. While we've covered a few great options in this list, there are still plenty more places to shop for aquarium shrimp online. That's why we created a huge list of over 250 different online aquarium shops that you can use to shop online.
Hobbyists can sort the list by shipping origin, reducing any chances for delays in shipment.
Conclusion
Freshwater aquarium shrimp have captivated the minds of hobbyists for years. Whether it's their bright colors or interesting personalities, it seems like no one can get enough of these fascinating little creatures. 
Do you have a favorite online store for purchasing freshwater aquarium shrimp? Let us know in the comments below, and be sure to check out our marketplace where you can purchase directly from other aquarium hobbyists.