10 Best Places to Buy Clownfish Online
Posted by on 09/02/2023
---
Whether you're looking to build out a new tank, or are considering adding a clownfish to your existing aquarium, there is no shortage of online options to choose from.
In this post, we'll recommend 10 online vendors experienced in shipping clownfish, and we'll even provide some additional stores at the end of the article if you're looking for a vendor local to your area.
---
---
What to Know Before Purchasing Online
When it comes to shopping online, hobbyists should do their best to determine if the clownfish image is a stock photo or an actual photo of the fish (often denoted as WYSIWYG, or, what you see is what you get.)
In most cases, using a stock photo is fine granted the fish they're selling is an exact match in appearance. However, when purchasing designer clownfish, such as the snowflake clownfish, hobbyists may prefer to see a WYSIWYG photo. 
Always remember that as a hobbyist, you share responsibility with the seller to ensure a successful shipment. Follow the tracking information carefully online so that you can be available when an order is delivered.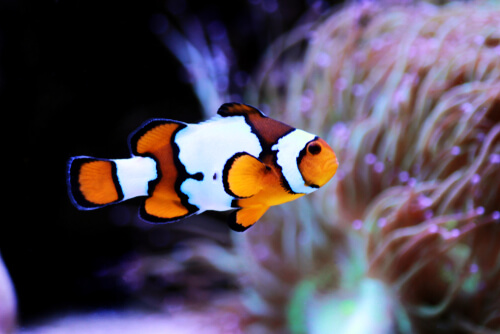 Vojce/Shutterstock.com
A Snow Onyx Clownfish
Our Favorites
Now that we've covered the fundamentals of purchasing online, here are some of our favorite places to shop for clownfish.
Biota
Known for its wide variety of captive-bred offerings, Biota typically has quite a few designer clownfish up for sale on its website. Hobbyists can expect to find some of the more popular designer variations, such as the Mocha Storm, Midnight Lightning, and non-designers such as the Pink Skunk Anemonefish.
Shop the Biota Group: https://shop.thebiotagroup.com/collections/clownfish-damsels
Cultivated Reef
Exclusively selling Captive Bred Fish, Cultivated Reef has been in the hobby since 1999 and ships orders from their facility based in Maine. 
Offering designer clowns such as Ice Storms, Longfin Ice Storms, Phantoms, and Gold Nugget Maroons, hobbyists have no shortage of options to choose from, and can take advantage of their $29.99 flat rate shipping,
Shop Cultivated Reef: https://cultivatedreef.com/
Jersey Corals
While NJ-based Jersey Corals may be best known for their coral offerings, hobbyists can pick up quite a few different types of designer clownfish over on their website. Longfin Ice Storms, White Storms, Platinum Storms, and DaVinci Clownfish are just a few of the many designer anemonefish up for sale on their website. 
Shipping out of a warehouse in Paterson NJ, hobbyists can take advantage of their frequently-running sales.
Shop Jersey Corals: https://jerseycorals.com/
Manhattan Aquariums
Shipping out of a brick-and-mortar store on the island of Manhattan, Manhattan Aquariums has a limited supply of saltwater fish, but hobbyists might luck out in finding designer clownfish available on their e-commerce shop.
Black Storms and Orange Ocellaris are just a few we've seen go up for sale. 
Shop Manhattan Aquariums: https://manhattanaquariums.com/
Marine Fish EZ
Shipping out of Atlanta Georgia is Marine Fish EZ. Owner Dave's e-commerce site offers a large collection of saltwater fish, and hobbyists can rest assured that their livestock will be well-packaged for a safe and successful shipment.
Maroon Clownfish, Brown Skunk Clownfish, and Gold Rush Maroons are just a few of the anemonefish offerings on their website.
Shop Marine Fish EZ: https://www.marinefishez.com/
Poma Labs
Biologist Matt Wittenrich heads up Poma Labs along with his co-founder Nuri Fisher, and while they sell a very small amount of fish (almost exclusively angelfish), it's worth taking a look at their current livestock to see if any anemonefish go up for sale.
Shop Poma Labs: https://pomalabs.com/
Salty Bottom Reef Company
Captive-bred Gold Nugget Clownfish, Black and White Clownfish, Pink Skunk Clownfish and Maroon Clownfish are just a few of many anemonefish up for sale on Salty Bottom Reef Company's website. 
Supply is limited, and hobbyists may need to frequently check their inventory to get an order in at this Florida-based digital establishment. 
Shop Salty Bottom Reef Company: https://www.saltybottomreefcompany.com/
The Clownfish Shop
Owned and operated by one person out of the Kansas City area, The Clownfish Shop offers many different types of captive-bred clownfish at affordable prices.
Picassos, Phantoms, and Black and White Ocellaris are just a few designer clownfish available in their online shop. 
Shop The Clownfish Shop: https://theclownfishshop.com
Aquarium Specialty
With over 6000 products on their e-commerce site, Aquarium Specialty resells many of the clownfish offered by Sea & Reef Aquaculture. Gold Lightning Maroons, Picassos, and Mocha Storms are just a few of the many designer clowns up for sale.
Orders ship out of their South Carolina facilities.
Shop Aquarium Specialty: https://www.aquariumspecialty.com/
Dr. Reefs Quarantined Fish
Hobbyists looking to place a large order can take advantage of Dr. Reefs Quarantined Fish's free shipping over $500 deal. Dr Reef's offers many of the clownfish sold by Sea & Reef Aquaculture, but also offers some of the rarer designers we've seen. Clarkii's, Black Ice, and even bonded pairs are up for sale over on their online shop.
Shop Dr. Reef's Quarantined Fish: https://drreefsquarantinedfish.com/
More Places to Shop
When possible, we always recommend ordering from a vendor that's a bit closer to home. Doing so reduces the chances that you'll run into order delays or issues with shipments. If none of the stores we've mentioned on the list are near your area - fear not, because we built a massive list of over 250 different online aquarium stores 👀 that you can use to find a vendor in your area.
Conclusion
That wraps up our list of 10 places to buy clownfish online. While it may be tough to decide which vendor to choose from, we suggest choosing one that's local to your area. Owning and operating an aquarium store is tough work, and these stores will greatly appreciate your business.
Now that we've provided you with some options, is there a store not on the list you love to order from? Let us know in the comments, and be sure to visit our marketplace where you can buy clownfish from hobbyists and other small businesses.