10 Best Places to Buy Guppies Online
Posted by on 10/07/2023
---
Guppies are some of the most popular aquarium fish in the freshwater hobby. They're easy to take care of, breed easily, and display a wide variety of unique colors and patterns for hobbyists to enjoy.
If you're looking to pick up some guppies for your freshwater tank, there's no shortage of options to choose from. In this post, we'll recommend 10 places where you can find guppies online so that you can build out the fish tank of your dreams.
---
---
What to Know Before Purchasing Online
Hobbyists unfamiliar with guppies should be warned - these fish breed easily in captivity. So much so that they're some of the most rehomed fish in the hobby. When most aquarium fish breed, very few will survive into adulthood. However, guppies are live-bearing fish, meaning the females will give birth to free-swimming young as opposed to laying eggs. This results in a lot of fish, which may exceed a hobbyist's aquarium size. Always be prepared for this scenario before purchasing guppies.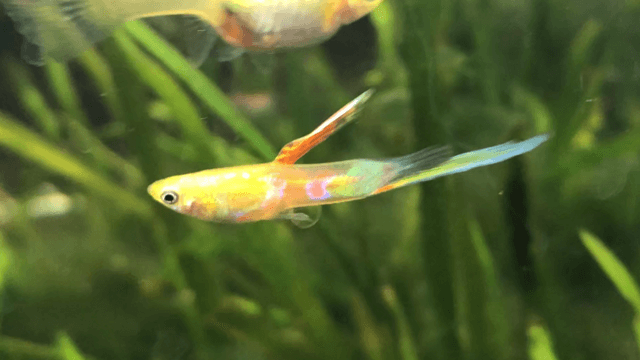 Andrew/Wikimedia Commons
A Rare Guppy Strain
Our Favorites
When purchasing online, hobbyists share a responsibility with the vendor to ensure a successful shipment. Before purchasing, always make sure you're available during the delivery day so that you can unpack your fish and begin the acclimation process.
Now that we've covered some basics, here are some of our favorite places to buy guppies online.
Fancy Guppies
Freshwater guppies from some of our top sellers
Dr. Reefs Quarantined Fish
While Dr. Reefs Quarantined Fish is a bit more recognized with the saltwater community, this Oklahoma-based business also offers a small selection of livestock for freshwater folks.
Hobbyists can find a selection of guppy offerings over on their e-commerce store.
Shop Dr. Reefs Quarantined Fish: https://drreefsquarantinedfish.com/
Jadren Aquatics
This Texas-based business is as grassroots as it gets. Hobbyists may already know Jadren Aquatics from their popular YouTube channel, but freshwater hobbyists can pick up both aquatic plants and freshwater guppies over on their website.
Both live plants and fish ship for $19, and hobbyists will have to take 3 clear photos to claim any DOA disputes.
Shop Jadren Aquatics: https://jadrenaquatics.com/
Dan's Fish
Operating out of a warehouse in Wisconsin, Dan from Dan's Fish has a wide selection of freshwater fish, including guppies. With a constant rotation of new freshwater additions, hobbyists should be sure to check out some of Dan's offerings.
Shop Dan's Fish: https://dansfish.com
Prestige Aquatics
Shipping out of the great state of Kentucky, Prestige Aquatics has over 100 tanks and plenty of freshwater fish for sale. Curious hobbyists can even take a look at their fish room, which is on full display over on their YouTube channel.
With plenty of guppies up for sale, hobbyists should be sure to pay Prestige Aquatics a virtual visit.
Shop Presige Aquatics: https://www.prestigeaquaticsfish.com/
Red Fish Blue Fish
We're big fans of Washington-based Red Fish Blue Fish. Operating a brick-and-mortar store out of Greenbank Washington, Red Fish Blue Fish sells exotic guppy strains such as the Blue Hawaiian Moscow, and Yellow Tiger King Cobras. 
Shop Red Fish Blue Fish: https://redfishbluefish.shop/
Select Aquatics
Select Aquatics might be best known for their highly sought after Longfin Green Dragon Bristlenose Pleco, but plecos aren't the only thing up for sale by this Colorado fish seller. Owner Greg Sage has been in the fish game for years, and hobbyists should visit his website to see what he has in stock.
Shop Select Aquatics: http://www.selectaquatics.com/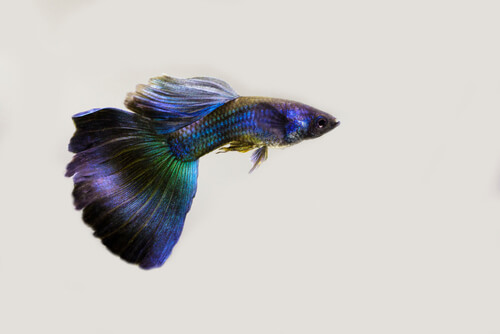 Mircea Costina/Shutterstock.com
A Rare Blue/Purple Moscow Guppy
Trin's Tropical Fish
From Piranhas to Sparkling Gouramis, Trin's Tropical Fish has a wide selection of freshwater fish available. Plenty of Guppies are up for sale on Trin's website, including Red Snakeskins, Red Mosaics, and the rare Hot Pink color strain.
Trin isn't always available to take orders, so hobbyists should first check to see if shipping is available before making a purchase.
Shop Trin's Tropical Fish: https://trinsfish.com/
Twin Cities Guppies
Operating out of the Maplewood Mall in Maplewood, Minnesota, Twin Cities Guppies specializes in two different species on their online store. Plecos, and you guessed it - Guppies. Hobbyists can find Galaxy Blue Tails, Full Gold, and Blue Dragon guppies all available on their website. Just be sure to check out their shipping dates so that you can coordinate delivery.
Best of all, 2-3 day shipping will cost hobbyists only about $10.
Shop Twin Cities Guppies: https://twincitiesguppies.com/
Upscale Aquatics
Based out of North Carolina, Upscale Aquatics has a ton to offer for both freshwater and saltwater hobbyists. For those of us looking to order some guppies, it's worth paying a visit to Upscale Aquatics's website.
While a lot of their listings are frequently out of stock, hobbyists may be able to score a good deal on a few guppies if they're available.
Shop Upscale Aquatics (Tropical Fish Company) : https://tropicalfishcompany.com
World Wide Fish and Pets
World Wide Fish and Pets operates a brick-and-mortar store in New Haven Connecticut, but these freshwater fish seller also offers shipping for customers. Orders ship only on weekdays, but World Wide Fish and Pets is one of the few vendors we've seen that offers shipping to both Alaska and Hawaii.
Hobbyists can find everything from Arowanas to Guppies on their online store.
Shop World Wide Fish and Pets: https://worldwidefishandpets.com/
Conclusion
As you can see, there's no shortage of online vendors to choose from when it comes to buying guppies online. While the ones on this list are some of our favorites, there are plenty of more options. There are so many that we've even built a massive list of over 250 U.S.-based online aquarium stores!
Now that we've provided a few of our favorite places to shop for guppies, which do you think you'll order from? Let us know in the comments, and be sure to visit our marketplace, where you can purchase directly from hobbyists just like yourself!