10 Frag Racks That Look Great In Any Tank
Posted by Miles Harrison on 12/04/2022
We use affiliate links and may receive a small commission on purchases.
---
Whether you're growing corals to sell online or simply waiting for them to get bigger to place in your display tank, a reliable frag rack will make your life much easier. Besides, who hasn't purchased a small frag only to have it knocked over by fish such as the pink-streaked wrasse? While this situation can be frustrating, a frag rack can be the perfect solution.
In this post, we're going to discuss the benefits of owning one of these products, and we're even going to recommend 10 different frag rack options for you to consider.
---
---
Frag Racks Explained
Frag Racks are racks (often acrylic-based) used to monitor newly acquired frags before attaching them to live rock. If you've purchased coral from a local fish store, chances are you've seen a frag rack. In a retail store, these racks are often used to grow coral or to display them for sale.
Frag Racks come in many different configurations. Some are tiered, which allows the viewer to see multiple corals from a head-on perspective, while some are completely flat, which allows many corals to be seen from above. Hobbyists will typically use magnetic frag racks, which are lightweight, but often hold a smaller number of frags.
If you're in the market for a frag rack, you'll have tons of options to choose from. From naturally resembling live rock to 3d printed frag racks, it can be a bit overwhelming to choose the right rack. But fear not! We're going to recommend 10 of our favorite frag racks.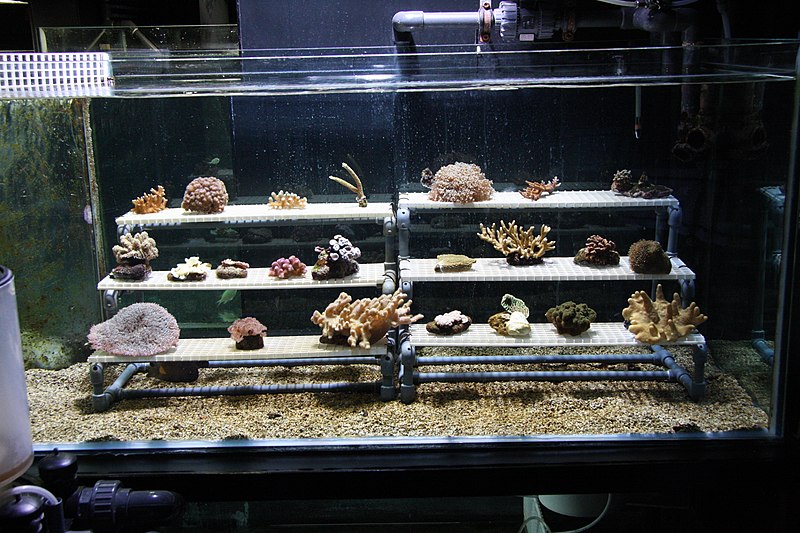 Brian Snelson/Wikimedia Commons
Tiered Frag Racks offer more front-facing visiblity
Our 10 Favorite Frag Racks
Frag Racks have been in the aquarium hobby for quite a while, so hobbyists have plenty of different options to choose from.
If you're looking for a budget-friendly solution, there are tons of great DIY solutions available online. However, if building a rack just isn't your thing you can't go wrong with these 10 options.
PRO Frag Rack by IceCap
Experienced aquarium hobbyists will most likely be familiar with the IceCap brand. This South Carolina-based business is known for its filtration systems, so it's no surprise that they offer additional equipment like frag racks.
Their PRO-series frag rack ($64) comes in 3 different configurations and can hold up to 8, 23, or 32 frags depending on which size you choose. This rack is known for its durability, while it's a bit bulkier than some of the other frag racks we've seen, it will have no problem holding your frags through half an inch of glass.
Premium Medium Frag Rack by PNW Customs
If you're looking to add some neon to your tank, check out PNW Custom's Premium Frag Rack ($55) . This Portland Oregon-based business specializes in tank accessories, racks, and stands.
Their Premium Frag Rack comes in 5 different color options: Jet Black, Goni Pink, Goblin Green, Tangie Orange, and Frosted (a white translucent color.) You also have two different magnet options to choose from, that will work for glasses up to ½ inch or ¾ thick in thickness.
N52 Mag Rack Pro by Ocean Wonders
Located in Northeast Iowa, Ocean Wonders opened up shop in 2020 and offers a variety of different frag mounts and racks. Whether you're looking for a ceramic or agrocrete frag mount, you'll have plenty to choose from as they offer dozens of different products.
Our favorite is the N52 Mag Rack Pro ($44) , it's capable of holding up to 30 frags at once, and the magnets come with a lifetime warranty. It's built from aquarium-grade ABS plastic, which is safe for your tank inhabitants.
Free Standing Honeycomb Frag Rack by Clear Choice Aquatics
This New Jersey-based retailer offers a ton of different 3D printed products, but we especially love their budget-friendly frag racks. One of our favorites is their Free Standing Honeycomb Frag Rack ($24)
Best of all, Clear Choice Aquatics offers plenty of customization options, so if you're looking for something specific, you can send them a message to build something tailor-made for your reef tank. They also have a presence on Etsy, so be sure to check them out!
GLO HolyGrail FrArt-Rack by Oceanbox Designs
If you're looking for a sleek-looking frag rack, look no further than the GLO HolyGrail FrArt-Rack by Oceanbox Designs ($49) .
This magnetic rack supports glass up to ½" thick, but it's the UV reactive acrylics that glow under actinic lighting that make this one of our favorite frag racks.
This Texas-based business has been selling aquarium equipment since 2017, and with an owner that's been in the hobby for over 16 years, we have a strong feeling you won't regret purchasing one of their frag racks!
Alpha Rack Magnetic Frag Rack by Eshopps
Eshopps fans will be happy to know that this California-based business offers the Alpha Rack Magnetic Frag Rack ($30) which comes in a few different configurations. Hobbyists can purchase 6-hole, 12-hole, and 24-hole racks, all of which come in an artistic black/neon design.
Its magnets work well with glass that's up to ½ inch in thickness. Interestingly, they chose to include their logo on the rack, which is great if you're looking to showcase your loyalty to this established brand.
32 Hole Magnetic Coral Frag Rack With Plug Locking System by Fiji Cube
Although it's not the cheapest frag rack, this cell cast acrylic frag rack ($65) comes with a plug-locking system and is rated for glass thickness up to ½ inch in thickness.
Sold in 8, 16, and 32-hole configurations, this Minnesota-based business specializes in high-standard equipment, so it's no surprise that the build quality of this rack is superb.
Purple Nano Corner Magnetic Frag Rack by Reef Rax
If you're after a natural-looking frag rack, then you'll love the products offered by Reef Rax. Built from a reef-safe resin, their Corner Shelf Rack ($70) looks stunning and comes in 3 different color options: purple, brown, and grey.
Although their products are a bit pricier than some of the 3D-printed and acrylic products we've reviewed, their racks are well worth the money, as the natural appearance of these racks blends seamlessly with your existing aquascape.
45 Hole Magnetic Frag Rack by Zen Reef
If you're looking for a massive frag rack, look no further than the 45 Hole Magnetic Frag Rack by Zen Reef ($110) . This monstrous rack comes with two different magnetic-strength options, with the most expensive option capable of holding through an inch of aquarium glass.
Whether you're a retail store selling frags or an avid coral collector, you'll love these large-sized racks.
Magnetic Coral Frag Rack by Reefing Art
Reefing Art's Magnetic Coral Frag rack closes out our list. This crystal clear cast acrylic frag rack is an affordable choice for hobbyists looking for a rack that doesn't have a bulky appearance.
Unfortunately, last we checked their website was offline, but they still have an Amazon storefront where you can purchase some of their highly-rated racks.
Summary
From natural-looking racks to massive 45-hole racks, there's something out there for every coral enthusiast.
Now that we've covered a lot of different options, which do you think you'll choose? Let us know by leaving a comment below, and be sure to check out our marketplace and community forum where you can connect with other aquarium hobbyists.